Passive covert surveillance capability goes sky high
2 February 2022 – Adelaide, South Australia – Silentium Defence, the global leader in passive radar has announced it will trial integration of its disruptive surveillance sensors for situational awareness into airborne platforms, initially targeting small to medium drones and unmanned aerial systems (UAS).
The trials, believed to be an industry world-first, will leverage unique size, weight, and power advantages of passive radar over existing active radar capabilities to extend survivability and range of unmanned airborne ISR platforms and improve the quality of surveillance data generated.
Silentium Defence CEO, Dr James Palmer said, "the challenge with existing ISR capabilities of small to medium UAS is they are power, and payload constrained.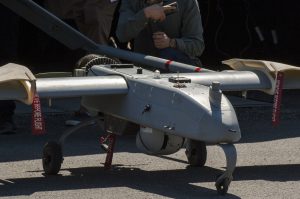 "Passive radar overcomes both these barriers and exploits megawatts of existing energy in the environment to provide greater range and performance without highlighting the drone or user's presence.
"Our sensors are cost effective, light weight and more power efficient which makes them easy to scale across operations and integrate with payloads, even on small format drones and UAS.
"Deployed independently or as part of a meshed network, UAS with integrated passive radar are more versatile and multi-purpose, providing covert situational awareness to inform the ISR picture, and counter-drone capability to protect people and assets simultaneously."
Silentium will work with existing drone and UAS platform providers and customers to trial static and on-the-move deployments of its airborne passive radar systems. Passive radar has already proven its versatility and value in maritime, ground based air, and space surveillance roles with more than (AU)$15m in contracts executed with the Australian Defence Force and commercial organisations.
Successful integration of passive radar into airborne platforms will enable Defence to conduct long range surveillance covertly and increase overall survivability. Silentium has expressed an interest in supporting a range of existing major ISR programs including JP129 in its various forms and future P-8 and AEW&C upgrades opening the way to future international exports.
– Ends-
Media Contact: Kate Hines, kate.hines@silentiumdefence.com.au, +61 413 070 925 
About Silentium Defence
Silentium Defence is a global leader in the design and deployment of complex passive radar surveillance systems for high end customers. An Australian owned and operated Small to Medium Enterprise we provide the products and solutions that deliver improved situational awareness and increase survivability for Australia's Defence Forces, its allies and civil surveillance customers. Our unique products allow customers to detect without compromise and act with confidence.