Silentium Defence is pleased to announce the appointment of Wayne Smith as Chief Operating Officer, and Greg Pouferis as Head of Operations Support, Silentium Defence.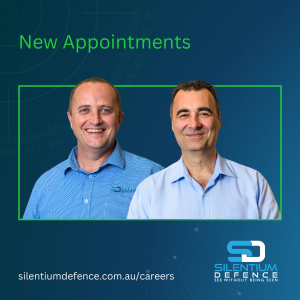 Wayne brings more than 30 years' experience in operations and maintenance, strategic planning, new product development, system integration and organisational change across Defence and commercial organisations to his role. As COO, he will oversee and lead execution of all of Silentium contracts, from program design and delivery to product development and operations support. 
Greg has more than 35 years' experience in project management, product development, customer relations, and senior management roles. He will be responsible for ensuring Silentium customers receive the highest levels of support and service excellence throughout the entire product and service lifecycle – from repair to maintenance, training, feedback, and operations.  
We're thrilled to welcome Wayne and Greg to these roles and to access their strategic input as we continue to grow and scale our products and services business.